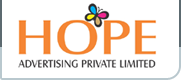 About Us > Strengths
At Hope, we formulate and touch with Wings of Vision & Creativity along the rising Generation. "Creativity & Prompt Service" which make one feel to be the best. The house of designers always ready to take on new challenges and adopt to change. The best brains are here to create wonders with experience, skill, creative designing & non-stop performance. At house of designers the vision in your mind comes to life with shape.

We're strategic branding agency dedicated to helping ambitious and agile business grow to the next level. We formulate and articulate brand positioning aligned with your business goals. Then create visual identities that get you there as directly as possible.

In addition to above, we are experts too in publishing the notice advertisements under Securitisation and Reconstruction of Financial Assets and Enforcement of Security Interest Act, 2002 (SEARFAESI Act 2002). All the templates of Demand, Possession, Sale and Other Notices readily available with us.