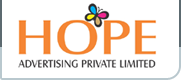 About Us > Profile
Way back in 1995, we had entered the dream-merchant's world. We, Hope Advertising Private Limited, have pleasure in introducing ourselves as a complete service-oriented, creative advertising agency. Accredited with Indian Newspaper Society, New Delhi & All India Radio and empanelled with Department of Information and Public Relation, Govt. of Andhra Pradesh..

Features
We are fully equipped with sophisticated advertising agency to cater to all your publicity needs such as Print, TV, Radio, outdoor advertising and all other media. Our computerized operations and a dedicated team of client-servicing personnel assure you quick services.

Besides producing state-of-the-art advertising campaign for products and services, we can also undertake data entry, data tabulation, book works, exclusive job works, field entry, listing works identity card making progress cards entry, etc., to name a few for corporate, consumer, trade, school, college and for other organizations besides, executing public relation exercises, press conferences, exhibitions, board-meetings, seminars.
Our Media Planner
Our media planners work for a number of different clients. They apply knowledge of media and communication to identify the most appropriate mediums for building awareness of a client's brand.

Working with the client and the account team to understand the client's business objectives and as well as going well with advertising tactics and to develop media strategies and campaigns as well as working with the press, television, radio and new media, in particular the internet.

Making decisions in the best form of media for specific clients and campaigns. Presenting proposals, including cost schedules, to clients. Esteeming the most appropriate types of media to use, as well as the most effective time spans and locations. Working with colleagues, other departments and media buyers either in-house or in a specialist agency.

Making and maintaining good contacts with media owners, such as newspapers, magazines and websites. Managing client relationships to build respect and trust in our judgement. Maintaining detailed records. Scrutinize the effectiveness of campaigns in order to inform future campaigns.